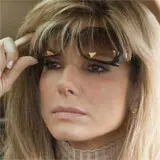 Warner Bros. Pictures will be opening their eyes in delight as The Blind Side not only continues to perform well beyond expectations, but managed to topple box office gorilla The Twilight Saga: New Moon.
Weekend box office estimates have The Blind Side with Sandra Bullock pulling in $20.4 million from Friday through Sunday for a domestic gross of approximately $130 million and counting. New Moon came in second with $15.7 million which might be disappointing until you look at the worldwide gross which has passed $570 million which is hardly worth Summit barking about.
A trio of newcomers had a rough time keeping pace in the typically sluggish weekend after Thanksgiving. Brothers with stars Jake Gyllenhaal, Tobey Maguire and Natalie Portman took third place with $9.7 million, Armored mustered $6.6 million and Everybody's Fine with Robert DeNiro wasn't so fine with $4 million.
Not in the top 10 but worth mentioning is the strong performance of Jason Reitman's Up in the Air with George Clooney and Anna Kendrick. It grossed $1.2 million off only 15 theaters for an impressive $79k per screen average. The Paramount dramedy continues its methodical expansion next weekend.
The complete weekend box office results for December 4 – 6 is as follows:
1. The Blind Side: $20.4m
2. Twilight New Moon: $15.7m
3. Brothers: $9.7m
4. A Christmas Carol (2009): $7.5m
5. Old Dogs: $6.9m
6. Armored: $6.6m
7. 2012: $6.6m
8. Ninja Assassin: $5m
9. Planet 51: $4.3m
10. Everybody's Fine: $4m
Disney's The Princess and the Frog will go into wide release next weekend and take on Clint Eastwood's latest, Invictus, starring Matt Damon and Oscar hopeful Morgan Freeman.
Check back on Tuesday as we launch the next round of the interactive Weekend Box Office Prophet game where you can predict what Invictus, The Princess and Frog and other films will make at the box office for a chance at prizes.