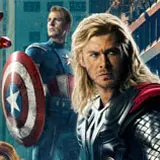 The Avengers second trailer has touched down and proves all is not rosy for the assembly of Marvel's greatest superheroes. These larger than life men, beasts and gods have some problems to work through in Marvel's upcoming big comic superhero team-up. Captain America, The Hulk, Thor and Iron Man may be on the same team, but they're super-sized egos are not necessarily working from the same playbook.
When we last saw Tony Stark (Robert Downey Jr.) at the conclusion of Iron Man 2, S.H.I.E.L.D. director Nick Fury (Samuel L. Jackson) was recruiting him to consult on a project called the "Avengers Initiative." Fury wasn't willing to bring Stark on board all the way because he wasn't a team player and had some other personality quirks, so he gave him a "consulting" role to keep him in the loop.
In The Avengers trailer, which plays strikingly similar to a Michael Bay Transformers trailers, Fury needs Stark's help in the worst way after Loki declares war on mankind. Stark in turn throws that earlier chat about his personality back in Fury's face. Iron Man, of course, will get his chance to work as a team when he leads a giant flying "thing" to his mates in the trailer's closing moments.
There are big egos in The Avengers and they will clash, as is evidenced by a fight pitting Captain America (Chris Evans) and Iron Man against Thor (Chris Hemsworth). Throw in The Hulk (Mark Ruffalo) claiming the group is a "ticking time bomb" and you've got the recipe for a dysfunctional band of superheroes who must pull together when the odds are most stacked against them.
Scarlett Johansson as Black Widow and Jeremy Renner also get some face time in The Avengers trailer, as do less combatant S.H.I.E.L.D. agents Coulson (Clark Gregg) and, in a first look, Maria Hill (Cobie Smulders).
For me, the money shot in the trailer is not the closing shot of a massive threat The Avengers will face. It's an unconscious Iron Man, falling from the sky, being rescued by The Hulk as they crash down the side of a skyscraper.
Get ready for The Avengers to open huge in theaters beginning May 4.