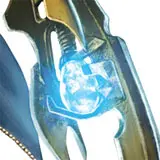 New promotional art for Marvel and Joss Whedon's The Avengers has been published online offering the closest possible look at the film's stars in action without showing the real-life characters in action. Proceed only if you aren't sensitive to potential spoilers.
The first image depicts Tom Hiddleston as Loki in the new garb he'll sport in at least part of The Avengers. This costume was confirmed by on-set images from Cleveland roughly a week ago in which Loki toys around with mortal humans. He'll at least flip a vehicle in this sequence, though the extent of the damage he inflicts remains unknown.
Everyone who has seen either the Loki on-set images or the new promo art are fixated on his staff. More specially, the glowing blue object embedded on the end of his staff.
Some claim it is the Tesseract as introduced at the end of Thor and used by Red Skull to power his army in Captain America: The First Avenger. It would make sense given that object's exposure in the previous films and set-up to be important in The Avengers, but it isn't that.
Click the image above for the high resolution version and take a closer look at the object. It's blue like the Tesseract, but it's clearly oblong in shape – like a gem. One theory floating around is that it's the main gem from the Infinity Gauntlet, as well at the 2010 Comic-Con. The similarity is striking when looking at the gem below and comparing it to the staff above. We probably won't find out exactly what it is until well into next year.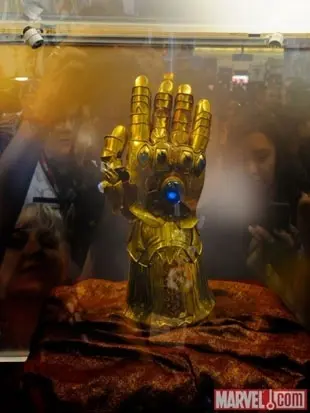 The second promotional image features The Avengers assembled and ready for action on the streets of New York City. Feast your eyes on Hawkeye and his stylish shades, Thor putting his hammer down. Iron Man in a revised Mark suit, Captain America raising his shield, The Hulk looking huge, and Black Widow flaunting her curves. Too bad their alien foes aren't hiding in the image like Waldo.
Here's hoping the same source will offer up some more gorgeous The Avengers movie promotional art in the near future.
Source: Spidermedia via CBM