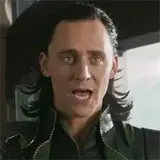 The Avengers assembled in their Super Bowl ad last night – literally – as the camera panned around Iron Man (Robert Downey Jr.), Hawkeye (Jeremy Renner), Black Widow (Scarlett Johansson), Captain America (Chris Evans), Thor (Chris Hemsworth) and The Hulk (CGI, but modeled after Mark Ruffalo) as the superheroes formed a circle to fight against Loki (Tom Hiddleston) and his alien army.
The 30-second Super Bowl spot was only the beginning of The Avengers fun that Disney doled out last night. At the end of the advertisement, Disney directed viewers to Facebook for additional new footage from the film. They delivered by more than doubling the Super Bowl spot into essentially an all-new trailer.
There are a lot of great moments in The Avengers extended Super Bowl spot, so I'll highlight some for you to look out for while watching it endlessly below. A Quinjet lands on the deck of the Helicarrier; Loki flies on a small craft with alien friends, blasting away at the citizens of New York below; Thor powers up Mjolnir with lightning atop the Empire State Building; Tony Stark suits up as Iron Man while walking; Thor lands on the wing of a Quinjet while it's flying; alien invaders with three toes on each foot leap down from the sky; Captain America shields Black Widow from a massive explosion; Hawkeye falls from the sky while firing an arrow; Iron Man attacks a craft high above the city; the now infamous "I have an army" and "we have a Hulk" exchange between Loki and Tony Stark, respectively; and The Hulk running through something, leaping in the air and smashing alien craft as they fly by.
With The Avengers less than three months from release, I wouldn't expect an all-new trailer to surface after this extended Super Bowl spot. I could see Disney and Marvel adding another minute to this trailer and releasing a two-minute theatrical trailer sometime in April, but that's purely speculation on my part.
The Avengers assemble in theaters on May 4, 2012.