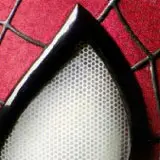 Back in November, The Amazing Spider-Man 2 director Mark Webb promised "bigger eyes" and "gnarly web shooter" for Peter Parker's Spider-Man suit in the sequel that is currently shooting. Earlier today his word was proven true in the first official image of the suit's top half, big bug eyes and all.
It's easy to take a look at the suit below and argue that Webb ripped off Sam Raimi's Spider-Man suit designs with the raised webbing and spider symbol. Both directors are drawing from the same source material and clearly Webb's Spidey eyes are bigger than Raimi's ever were, and more accurate to the comic as a result – especially Ultimate Spider-Man (the comic comparison image is directly beneath the film publicity still below).
The Amazing Spider-Man 2 is currently shooting on location in New York City. It's quite feasible that video or pictorial evidence of the new Spidey and other characters will be headed online.
Returning in The Amazing Spider-Man 2 are Andrew Garfield as Peter Parker/Spider-Man, Sally Field as Aunt May, Martin Sheen as Uncle Ben (presumably flashback or dream/vision) and Emma Stone as Gwen. They are joined by Jamie Foxx as Electro, Dane DeHaan as Harry Osborn, Shailene Woodley as Mary Jane Watson, and Paul Giamatti as The Rhino.
Colm Feore is also listed on the main cast list and is rumored to be playing Norman Osborn, though there's no hard evidence to back up that claim. It's hard to imagine Norman not appearing in the film considering the tie's to Peter's past that will be further explored and his son, Harry, definitely playing a major role.
Columbia Pictures and Sony have already pegged May 2, 2014 for The Amazing Spider-Man 2 release date in 2D and 3D.
Source: ComingSoon