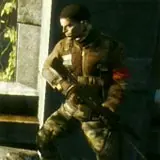 Tomorrow we will be exactly one week away from the release of Warner Interactive's Terminator Salvation: The Videogame for PS3 and Xbox 360 and just over a week away from the movie's release. The Resistance is about to begin.
The latest media in support of the game's launch features gameplay footage of John Connor battling airborne Terminators of all shapes and sizes. You'll certainly recognize a couple of them from the movie trailers.
Terminator Salvation: The Videogame is developed by GRIN Studios. The game's story takes place 2 years before the events of the film.
> >