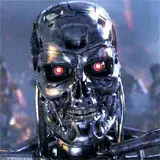 The future is not set for the Terminator franchise but its fate may soon be decided.
According to an article at the Financial Times, FTI Captial Advisors will be auctioning off the rights to all future Terminator movie and television projects to the highest bidder. This would potentially include a sequel to Terminator Salvation which the winner would be vesting an interest in with the purchase.
Sony Pictures and Summit Entertainment are said to have expressed interest in snatching up Terminator on the cheap. Summit in particular is bathing in Twilight cash and adding the Terminator brand to its stable would help solidify its future past the Twilight years.
This news comes as Warner Home Video prepares to release Terminator Salvation on DVD and Blu-ray Disc, the latter with 3 additional minutes of footage not seen in theaters.