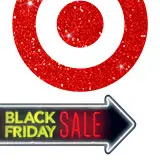 The Target Black Friday 2012 ad is out and offers some decent deals in video games, Blu-ray and DVD, and electronics, but nothing that is likely to really knock your socks off.
On the video game front, the Xbox 360 4GB console and Kinect Bundle with Kinect Disneyland and Kinect Adventures is on sale for $199.99, a full $100 off its $299 regular price. This breaks down to getting the Kinect motion control system and two games included for free.
A Sony Playstation 3 bundle is considered a doorbuster and includes Infamous, Uncharted 1 and 2, and a Playstation 3 slim console for $199.99. Like the Xbox 360 bundle, this one is designed to undercut Nintendo's new Wii U price and clear out stock with the new consoles from each company due to arrive in stores a year from now.
On the games front, notable deals for $25 include Call of Duty: Modern Warfare 3, Max Payne 3, LittleBigPlanet Karting, Just Dance Disney and Lego Batman 2. In the $35 range are Madden NFL 13, Medal of Honor Warfighter, Need for Speed Most Wanted, Borderlands 2 and Disney Epic Mickey 2. Another deal offers a $20 gift card with the purchase of Assassin's Creed 3, Halo 4 or Forza Horizon.
Handheld gamers will find a PS Vita Bundle with Lego Batman 2 for $199.99 and a 3DS bundle (not 3DS XL) wtih Super Mario 3D Land for $149.99.
Those of you picking up a Wii U will be able to buy the Nintendo Wii Remote compatible with Wii U for $39 as a doorbuster deal. Xbox 360 and Playstation 3 official controllers will be the same price.
On the Blu-ray side, be on the lookout for Prometheus at $10, The Expendables at $6, and Dumb and Dumber at $4. Other titles will be on sale but aren't listed in the ad.