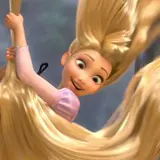 Disney's Tangled wrapped its hair around the boy wizard in squeezing out a first-place finish at the box office this past weekend.
Tangled pulled in an estimated $21.5 million from 3,603 in its second weekend, a 60% drop from its opening frame. The 3D animated adventure and last Disney princess movie for the foreseeable future now stands only $3.5 million away from crossing the $100 million mark.
Harry Potter and the Deathly Hallows: Part 1 unsurprisingly took second with $16.7 million in its third weekend of release. Though Potter did not have the added benefit of 3D ticket prices that Tangled did, it was playing in over 500 more theaters. Deathly Hallows now stands at $244 million and should cross the $250 million mark this week.
Fox Searchlight's Black Swan starring Natalie Portman and Mila Kunis opened on 18 screens with an amazing $77,459 per-screen average, a record for the studio. Only The King's Speech has put up a better per-screen average during a weekend frame this year.
Elsewhere at the weekend box office, Burlesque took third with $6.1 million in its second weekend of release while newcomer The Warrior's Way couldn't find its way and stumbled to a $3.1 million debut.
Here are the complete estimated weekend box office results for December 3-5, 2011.
1. Tangled – $21.5 million
2. Harry Potter and the Deathly Hallows: Part 1 – $16.7 million
3. Burlesque – $6.1 million
4. Unstoppable – $6.1 million
5. Love And Other Drugs – $5.7 million
6. Megamind – $5 million
7. Due Date – $4.2 million
8. Faster – $3.8 million
9. The Warrior's Way – $3.1 million
10. The Next Three Days – $2.7 million