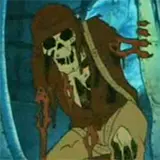 With The Walking Dead, Dead Rising, and Call of Duty: Black Ops, zombies are riding quite the wave of success right now. The inclusion of a zombie sequence in producer Ivan Reitman's 1981 animated Heavy Metal may be why Sony Pictures Home Entertainment has revealed plans to bring the edgy and very R-rated film to Blu-ray Disc on January 25.
Heavy Metal's collection of short stories are linked by a glowing green alien orb that spread destruction in its wake. John Candy, Eugene Levy, Richard Romanus and Harold Ramis all lend their voices to characters that fight the orb's powers behind a great 80s soundtrack powered by Black Sabbath, Blue Oyster Cult, Cheap Trick, Devo, Donald Fagen, Don Felder, Grand Funk Railroad, Sammy Hagar, Journey, Nazareth, Stevie Nicks, Riggs, and Trust.
Heavy Metal on Blu-ray will be presented in 1.85:11080p video and 5.1 DTS-HD Master Audio. The 'Imagining Heavy Metal' documentary and deleted scenes are the only known bonus features at this time.
Check back later for the addition of Heavy Metal Blu-ray cover art, pre-order information and pricing.