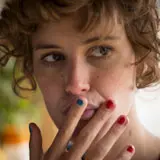 Another year, another South by Southwest (SXSW) for yours truly. It's become my annual getaway to indulge in the things I love most; film, food and, while it might seem silly to say, the pure enjoyment of the human spirit. There's just something magical about this brief moment in time where one is surrounded by like-minded individuals, ones that look for the next two or three layers of what a film is trying to say. Ones that are willing to endure wind and rain for a chance to be one of the few to first lay eyes upon a new film. The kind of people that don't just treat film as an art form, but embrace, love and appreciate it.
While in our own day to day lives there's often a sense of solitude in these ways of thinking. "They are just movies, right?", some might say. " Who cares about a message? How can something disgusting be a metaphor for a larger issue at hand? How could a movie make you rethink your own life?" These are questions that some of us have never thought to ask. We're the ones that have had our lives shaped by what cinema has given us over the span of our days. It's weird to us to not want to look deeper, to not seek out the message. We long for the next film to surprise us, to shock us, to leave us devastated and uplifted, sometimes all at once. For a brief bit of my life every year, I get to share that feeling with thousands of other folks just like me, and I wouldn't trade it for the world. This is my third year here and I can only hope it's a small taste of many more to come.
As I've done in previous years, I came in a few days early to get my wits about me, spend some time with friends at lovely Kenny Manor, and indulge myself in the many fine foods and spirits that Austin has to offer. If I keep my pace, I may end up sponsored by Lone Star by week's end. Having a few days to relax and enjoy the surroundings makes the madness that comes much more easier to embrace. The trick is making the madness work for you. Those that can utilize life's many vices into a functional manner can thrive in such situations, and I'm pleased to consider myself one in the mix.
Yesterday was the official first night of the film festival, celebrating its 27th year in beautifully bizarre Austin, TX. The opening night choices are many. It may even be the biggest choice, because the last thing anyone wants is to start off a week of non-stop film watching with a dud. Luckily for all involved, duds are few and far between. My whole night would be spent at the beloved Alamo Drafthouse Ritz, so I knew at least my surroundings would keep me well.
My first film for this year was an absolute no-brainer. That film was a wonderful documentary That Guy Dick Miller. You may be asking yourself, "who is that?" and that's honestly kind of the point. He may just be the biggest "that guy!" of them all. Dick Miller has had a storied career in the world of cinema, stretching out across nearly 60 years working with the likes of Roger Corman, Joe Dante, Sam Fuller and Martin Scorsese. The film delves into much of Dick's personal life along the way, most rewardingly his long time marriage to wife Lainie, who also serves as a producer on the film. The pair's unending love for each other is a nice anchor amongst the ups and downs of the acting lifestyle. It's the perfect kind of documentary that mixes knowledge and background with genuine moments and it moves at a breakneck pace. Director Elijah Drenner has a great sense of the documentary medium and truly excels here at telling one of Hollywood's great stories. Not only was it a pleasure to be a part of the film's world premiere, with Dick and Lainie in attendance, but it was also Lainie's birthday. In a beautifully surreal moment all of us in attendance sang Happy Birthday to her and left feeling like we had experienced something truly special, which we most certainly had.
Nothing could have prepared me for the next film of the night, Wetlands. The film is a German export directed by David F. Wnendt that is an absolute assault on the senses and the viewer's own sensibilities. It revolves around Helen (Carla Juri), a young woman who is completely in tune with everything about herself, her body and her sexuality. She experiments masturbating with various vegetables, trades tampons with her best friend becoming "blood sisters" and has a keen understanding and amazement with her bodies various fluids and secretions. She's a complete person in a world that constantly tries to compartmentalize what women are or should be, and it's beyond refreshing. Helen has also spent a life with parents that are beyond emotional investment from each other and especially their children. When Helen experiences a severe shaving accident in an intimate area, she uses her ensuing hospital stay to share her past as well as bring her family together in the way she always wanted them to be.
Wnendt soars in his sophomore effort taking viewers to places few films have ever dared venture. Taking us to those places is the mesmerizing Carla Juri who has forever raised the bar on actors being referred to as "brave" or "fearless". She becomes Helen in a way that most people can't inhabit their own skin. It's a film that throws preconceived notions of female sexuality and the female experience in general in the faces of all those eager to keep women in a tight little box of their own desires. This doesn't just push boundaries, it destroys them because they shouldn't have been there in the first place.
I closed out the night with my first Midnighter of the festival, Honeymoon. It stars Rose Leslie (Game of Thrones) as Bea and Harry Treadaway as her husband Paul. What starts as an honest and earnest look at a newlyweded couple delves into suspicion when after a mysterious sleepwalking incident Bea begins to change before Paul's eyes, at first mentally but progressively physically, too. Think Body Snatchers with an early Cronenberg influence and you'd be on the right track. The film is director Leigh Janiak's feature debut, and I can easily say that I was beyond impressed and very much look forward to her future output. The cast does a great job as well at building a believable relationship that makes it that much harder when it falls into despair. A slow burn of a film sure to please fans of genre filmmaking.
For day two I've got a lovely slate planned. First shall be Only Lovers Left Alive, the latest from one of my favorite directors, Jim Jarmusch. The film revolves around two vampires, centuries old, that remain in love. It features an all-star cast including Tilda Swinton and Tom Hiddleston. After that will be Creep, a film written by and starring Mark Duplass about videographer who gets a day job through a Craigslist ad only to discover it is not what it seems. Finally I will be closing out the night with Starry Eyes. This Midnigter stars Alexandra Essoe and Amanda Fuller, telling the tale of an actress willing to do anything for the chance at the role of a lifetime. I can only assume (and hope!) that bad things shall follow.
Feel free to follow Matt on twitter and Instagram at @capnnarcolepsy for immediate updates on films, food, Austin and probably cats.