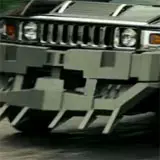 StephenSommers.com debuted a new clip this morning for Paramount's G.I. Joe: The Rise of Cobra that may make you rethink your preconceived opinions about the film.
The clip is from the Paris Pursuit sequence in which Snake Eyes (Ray Park), Duke (Channing Tatum) and Rip Cord (Marlon Wayans) are chasing an SUV carrying The Baroness (Sienna Miller) and Storm Shadow (Byung-hun Lee).
We've been snippets from this sequence before but never stitched together or showing all of Snake Eyes' moves. What's amazing is the action, especially Snake Eyes, looks like it was ripped right out of a comic book and is 1000x more coherent than anything in Transformers: Revenge of the Fallen.
Enjoy the clip below and be on the lookout for G.I. Joe: The Rise of Cobra in theaters August 7.