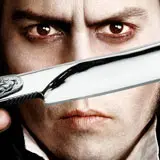 Paramount and Dreamworks Home Entertainment have released the final disc specs and cover art for Sweeney Todd: the Demon Barber of Fleet Street starring Johnny Depp, coming to Blu-ray Disc on October 21.
Sweeney Todd was originally scheduled for an April 1 HD DVD release. It was no laughing matter when Paramount and Dreamworks pulled the plug on HD DVD support naming Beowulf as the final title released on the format, due one week before Sweeney Todd.
Paramount and Dreamworks are presenting Sweeney Todd on Blu-ray in widescreen 1.85:1 1080p video and 5.1 Dolby TrueHD audio.
Supplemental features are almost all presented in high definition save for a few exceptions. The full list is as follows.
Burton + Depp + Carter = Todd featurette (HD)
Sweeney Todd Press Conference (HD)
Sweeney Todd is Alive: the real history of the Demon Barber (HD)
Musical Mayhem: Sondheim's Sweeney Todd (HD)
Sweeney's London (HD)
The Making of Sweeney Todd
Grand Guignol: A Theatrical Tradition (HD)
Designs for a Demon Barber (HD)
A Bloody Business (HD)
Moviefone Unscripted with Burton and Depp
The Razor's Refrain (HD)
Photo Gallery

Theatrical Trailer (HD)
Sweeney Todd on Blu-ray will carry an SRP of $39.99.
You can secure your copy of Sweeney Todd on Blu-ray early at a reduced price by pre-ordering from Amazon.com.