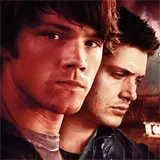 In an almost identical announcement to Chuck: Season One last night, Warner Home Video has revealed Supernatural: Season Three is coming to Blu-ray on November 11, the same day as Chuck.
Like Chuck, the third season of Supernatural had previously been announced for DVD over a month earlier with a September bow. There was no indication at the time of a Blu-ray treatment in the works, but hey, we aren't complaining. Better late than never, even if the first two seasons on Blu-ray aren't even a blip on the radar yet.
Supernatural: Season Three on Blu-ray will be presented in widescreen 1.85:1 1080p video and 5.1 Dolby Digital lossy audio on a combination of three BD-25 and BD-50 discs.
As with Chuck, all the extras features have been ported from DVD to Blu-ray including access to a digital copy of the entire season. Here's the complete list of supplements.
From Legends to Reality: Supernatural Effects
Impala Featurette: A Look Inside the Classic 1967 Chevrolet Impala
Scene Specifics: Short Segments Showcasing Creative Team Members

Discussing Favorite Aspects of Particular Episodes

Ghostfacers! Confessionals Minifeaturette Gallery
Gag Reel
Plus a bonus offer for a Digital Copy of the entire season
The set includes all 16 episodes from the third season, outlined below.
The Magnificent Seven
The Kids Are Alright
Bad Day At Black Rock
Sin City
Bedtime Stories
Red Sky at Morning
Fresh Blood
A Very Supernatural Christmas
Malleus Maleficarum
Dream A Little Dream Of Me
Mystery Spot
Jus in Bello
Ghostfacers!
Long-Distance Caller
Time is On My Side
No Rest For the Wicked
Supernatural: Season Three on Blu-ray will carry an SRP of $79.98. Check out the high resolution cover art below and check back regularly for pre-order information.
Discuss Supernatural's Blu-ray debut in the HDR Forums.