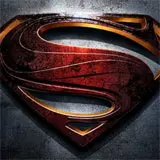 It's a bird… it's a plane… it's Superman, in 3D!
Warner Bros. has caved in to the mighty dollar and ordered up a post-production conversion of Zack Snyder's Man of Steel into 3D. This will mark the second film Snyder is taking into the third dimension, the first being the animated spectacle Legend of the Guardians: The Owls of Ga'Hoole.
Christopher Nolan, serving as a Man of Steel producer, has not yet chimed in on the decision to convert the film to 3D. Nolan has been outspoken in his criticism of 3D throughout the production of the Batman trilogy. One has to wonder if Man of Steel would still get the 3D conversion were Nolan behind the camera.
Warner Bros. is no stranger to seeing the profit potential of 3D after a film has wrapped production. Less than two months ago, Warner Bros. pulled the trigger on converting Guillermo del Toro's Pacific Rim to 3D only 60 days after the director told a hall full of fans and press at Comic-Con that the film's large-scale action was not well suited for the three-dimensional format. Money talks, and apparently del Toro – and now Nolan – have listened.
Man of Steel stars Henry Cavill, Amy Adams and Michael Shannon, and takes flight in theaters on June 14, 2013 after being pushed back from its original December 2012 release date.
Source: THR