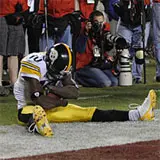 Did Santonio Holmes get his right foot down? Were there multiple blocks to the back during James Harrison's 100 yard escort to the end zone at the end of the first half?
These are all questions the small but swelling by the day Cardinals nation will ponder throughout the off season. Steelers fans, on the other hand, will get to relive their team's triumph in 1080p high definition.
Less than 24 hours after Mike Tomlin became the youngest coach in NFL history to win the Super Bowl, online retailer Amazon.com began taking pre-orders for the Amazon exclusive NFL Super Bowl XLIII: Pittsburgh Steelers Champions on Blu-ray Disc with a March 3 release date.
Warner is the likely publisher of this disc despite no publisher listing at Amazon. Warner has released countless NFL-themed titles on DVD but, until now, has not married the NFL and Blu-ray Disc.
Unfortunately no additional details are available at this time so we don't know if this is the game, the game and pre/post game festivities, or the game and Steelers highlights from the season. As soon as additional information is released we'll be sure to pass it along.
Click through the disc details below to view larger cover art or click here to pre-order a copy for $23.99 at Amazon.com.