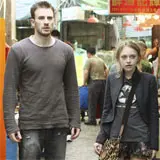 Summit Entertainment has included the theatrical trailer for Push on its Blu-ray Disc release of Twilight which ends by stating the film is coming DVD and Blu-ray Disc soon.
Push stars Chris Evans, Dakota Fanning and Camilla Belle in a story about ordinary individuals who possess extraordinary powers. Similar to Heroes, yes, but on a motion picture stage.
The box office was not kind to Push with a worldwide gross of $37 million, $1 million shy of the production budget. It's a film that will likely perform well on DVD and Blu-ray Disc with its sci-fi edge.
We'll have more information on Push's upcoming Blu-ray debut in the near future.