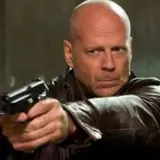 Summit Entertainment has re-hired screenwriters Jon and Erich Hoeber to pen a sequel to Robert Schwentke's Red, last fall's successful action thriller starring the AARP-aged cast of Bruce Willis, Helen Mirren, Morgan Freeman and John Malkovich.
Red made $90 million at the domestic box office and just under $165 million worldwide. With those results and the age of its stars, it's no surprise Summit has the pedal to the medal on getting the sequel on track.
Though the screenwriters are in place and a script will be underway soon if not already, Summit still needs to either re-up Schwentke or find a new director as well as sign its stars. None of the original's cast signed a multi-film deal given their age and the uncertainty of the project's success.
This news comes roughly a week before Summit will release Red on Blu-ray and DVD on January 25. You can pre-order either version of Red for a discounted price at Amazon by clicking here.
Source: Collider