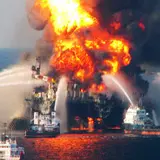 Summit Entertainment and Participant Media are moving forward to produce a film based on the BP Deepwater Horizon tragedy in the Gulf of Mexico that occurred on April 20, 2010.
The first step, announced today, saw Summit and Participant purchase the feature film rights to 'Deepwater Horizon's Final Hour,' a New York Times article penned by David Rohde, David Barstow, and Stephanie Soul. The article focuses on the men working on the BP oil rig when it exploded, leaving 11 of them dead and an additional 17 wounded. The men had to work feverishly and courageously after the explosion to help one another try to survive the intense heat out on the open water.
Writer Matthew Sand is already on board to develop the 'Deepwater Horizon's Final Hour' into a screenplay. Sand wrote the screenplay for 2009's Ninja Assassin as well as the upcoming projects The Summoner, American by Blood, The Red Star, and Brothers in Arms.
Summit is currently negotiating with famed producer Lorenzo Di Bonaventura to have his Di Bonaventura Pictures produce. Di Bonaventura recently produced Red for Summit and also have produced all three of Michael Bay's Transformers films.
Hollywood is no stranger in bringing large-scale disaster stories to the big screen. The terrorist attacks of 9/11 spawned a pair of big feature films in United 93 and World Trade Center.
More recently Universal had planned to produce Hunting Season based on Hurricane Katrina. That project failed to get off the ground.
With the rights secured, a writer on board and negotiations already underway for a producer, the odds are looking good that Summit and Participant Media's BP Deepwater Horizon tragedy movie will become a reality.
Source: Variety