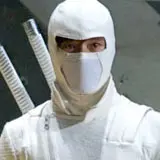 When last we saw Lee Byung Hun as Storm Shadow in G.I. Joe: The Rise of Cobra, he suffered what appeared to be a fatal wound from nemesis Snake Eyes and plunged into the frigid arctic sea. You didn't really think he was dead, did you?
Next to Snake Eyes, Storm Shadow is arguably the most popular character in G.I. Joe lore. His absence from the upcoming sequel to Rise of Cobra would deal a blow to the film's marketability to not only old school fans but kids that recently latched onto the mysterious ninja character.
Per this uncredited report, Storm Shadow will not only return in G.I. Joe 2 but his role will be more "substantial." Assuming he did in fact survive, Storm Shadow will have a lot of unfinished business to take care of. He may even face a test of his allegiance to Cobra.
Early word is G.I. Joe 2 will begin filming later this year for a 2012 release. Paramount has yet to formally announce a timetable or confirm Stephen Sommers is returning to direct.