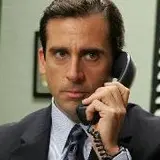 Steve Carell is being given a super-sized exit from NBC on 'The Office' in the form of a rare extended episode.
The April 28 episode, Carell's final as a member of the cast (don't rule out a future cameo), will run from 9 pm until 9:50 pm or 20 minutes longer than its usual half-hour time slot. At 9:50, NBC will air an all-new episode of Parks and Recreation that runs 10 minutes longer than a typical episode. Once 10:30 hits, a standard episode of '30 Rock' will commence.
Carell's 'The Office' farewell as Michael Scott is just the beginning of big things going on at Dunder Mifflin to bring this transitional season to a close. Will Ferrell will help see Carell off and then appear through the end of the season, while guest appearances by the likes of Ray Romano, Will Arnett, Ricky Gervais and James Spader are on tap for the season finale. Maybe by then we'll learn once and for all who will be Michael Scott's successor.
Check out a clip of Will Ferrell being introduced to the staff of Dunder Mifflin below.