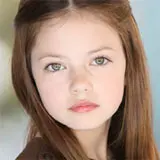 Back on September 28, Entertainment Weekly ran a story claiming their inside sources had learned virtually unknown Mackenzie Foy was in final negotiations to play the coveted role of vampire-human child Renesmee in The Twilight Saga: Breaking Dawn Part 1 and 2. Since then there hasn't been a peep about the potential casting news from Summit Entertainment.
With Twilight fans on pins and needles for Renesmee casting confirmtion, in swings Twilight author Stephenie Meyer to the rescue. Yesterday she took to Facebook and concluded a short update about the Twilight Facebook page hitting 15 million fans with a little icing on the cake. "Very excited about our new Renesmee, Mackenzie Foy," Stephanie wrote. "She's an amazing young actress and I'm excited to work with her."
According to IMDB.com, Mackenzie is 9 years old and has appeared in a number of commercials as well as a single episode each of the canceled shows FlashForward and 'Til Death. Now she really has something to celebrate when turning the big 1-0 next month.