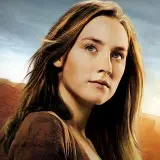 The big screen adaptation of author Stephenie Meyer's Twilight) The Host from director Andrew Niccol will arrive July 9 on Blu-ray and DVD according to online retailer Amazon.com.
The Host stars Saoirse Ronan and Max Irons in a young adult romantic story set within the framework of an alien invasion in which the aliens take over human bodies and flush their mind and memories. It was released in cinemas by Open Road Films on March 29 with moderate expectations, however came up short with $25.9 million earned to date in North America from a budget of approximately $40 million. Worldwide ticket sales are a little better at $47.5 million.
An official announcement regarding The Host coming to Blu-ray and DVD is expected within the next month or so. We'll get all the disc details, bonus features and cover art at that time.
Click here to pre-order The Host on Blu-ray and DVD combo for $24.99 at Amazon.com, 29% off the $34.98 list price.