This upcoming Friday, September 16, the fourth season of Star Wars: The Clone Wars will debut on The Cartoon Network. The ongoing series tells the stories of Obi-Wan Kenobi, Anakin Skywalker and his Padawan, young Ahsoka Tano, as they fight for the Republic against the Separtist forces between the events of Star Wars: Attack of the Clones and Star Wars: Revenge of the Sith.
For the first time in the series' run on The Cartoon Network, we'll be covering the show on an episode-by-episode basis here at TheHDRoom. Rather than jump into the fire cold, I wanted to build up to the big season 4 premiere with a series of interviews with some of the talent that makes the visually arresting show come to life.
Kicking off our The Clone Wars coverage this week is a chat with Joel Aron, the show's CG Lighting & FX Supervisor. Joel's resume spanning decades with ILM reads like a dream Netflix queue. He's quite passionate about The Clone Wars as you're about to find out.
Joel — thanks for taking the time to answer our questions regarding The Clone Wars and your body of work. I'm a big fan of just about every movie on your resume so it's an honor to feature you at TheHDRoom.
It's my pleasure! Thanks so much for taking notice of the list of movies! Each one was thanks in part to the teams of brilliant ILM artists and production staff that I worked with. It was a team effort!
Can you tell us what your duties on The Clone Wars entail, both when the series began and today?
Unlike most productions (animated or live action) where each person serves a single task, on The Clone Wars, it's like spinning plates and juggling, at the same time. My duties span over a great deal more than I would be responsible for on a live action or animated feature project. I supervise pretty much all things digital on the show, and it all started when I was asked to assist the production over 4 years ago. I was asked to go out to our Lucasfilm studio in Singapore to work for 8 weeks with the few members that made of the FX team, and work with them to raise the bar on the look of the FX. I was in between feature productions at ILM, so I went out there, and within 1 week, I was hooked on the pace, and loved what I was able to bring to the team.
Fast forward to 6 months later to the spring of 2008. I decided to leave 17 years of feature films, and ask for a position as FX development supervisor on The Clone Wars. It got me on to the show at the tail end of the season one, and from there I began taking on more responsibilities. I am always pulling from my past experiences on feature films.
My primary interest on the show was not just the FX, but it was the lighting. The show had a blossoming look to it that I knew could be taken to a more cinematic quality. As a photographer and painter, even in my ILM days, it was the lighting that always was my passion.
In 2009, I became the CG Lighting & FX supervisor. It's a unique duty, that covers everything from working with the Paul Zinnes, who supervises the asset builds that come from the design department, to supervising the look of all lighting and FX that are produced from all three studios that work with us on the show. The character animation is supervised by Keith Kellogg, and the two of us, continue to this day to always help make the show's look get better with every episode.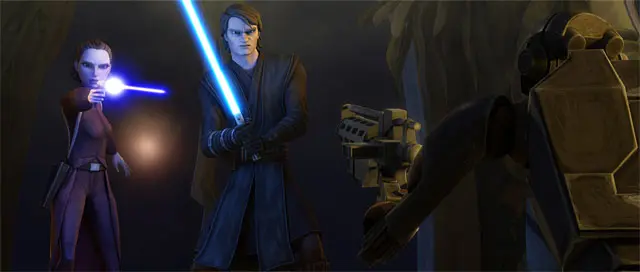 You stopped working on theatrical releases in 2008 to focus on The Clone Wars. What initially lured you to the series, and has kept you there for several years and counting?
Anyone who knows me or has worked with me will tell you that I have a ridiculous amount of energy. On feature productions, I would thrive for the last push to get a show done. That time, when you've worked harder than you have in months, and you're in the final stretch to deliver on time. Visual effects demands in the last 10 years on feature films have become so challenging, and have to look so believable, that in order to have it look perfect, a team of artists may spend months on a single shot.
Having been with ILM since 1991, I came from the camp of "you do it all" on a shot. You may not have had to animate it, or build and paint the CG model, but you had to put the shots together with whatever you tricks you knew how to do.
Today, with so much depending on software and proprietary software, there is not much room to "cheat." Cheating is what you need to do in that last push to get a show done on time. Cheating is thinking outside of the box, and taking a much more simple approach to sell the images on screen. It's how they did VFX work before the digital explosion in the early 90's.
The pressure of an extremely tight production schedule, and the challenge of working with multiple teams of artists around the globe (and around the clock) is what really drew me in. Plus, it's Star Wars. Nothing gets old with Star Wars, and that's why I'll be on the show, always.
Is there a scene or sequence in season four that stands out as having been especially challenging to pull off? If so, what was the challenge?
Season 4 was a cluster of stories that each had their own challenge to pull off. There were several sequences in the first few episodes that all took place under water. That had me and the teams wondering how we were all going to squeeze the demands of the scripts into a very tight production schedule. It was high time to cheat.
The challenge: Three episodes of civil war, under water. We had to make the audience think we're under water. We cheated our new method of adding dust motes in to a dusty environment to look hazy, with dust in the air, to look like silt particles in the water. Combine that with a few bubbles from the Jedi every once in a while, and it works. That was the single most challenging overall effect.
On the series, we tackle each challenge with the most simple solution first, and build on that. It makes the show possible. Sure, we have a sequence from time to time that needs special attention, and you'll see more of those later this season.
Likewise, is there a character that stands out as being especially challenging to realize on the show? I'd have to think the Zillo Beast ranks up there.
Yeah, for sure. The Zillo was off the charts challenging. It was rigged like no other animation rig, and did one thing that not too many characters have done on the show… it interacted heavily with the set. That was a huge challenge, not only for how the Zillo was designed and built, but for the animators, FX artists, and lighters. It was the first time I believe we were able to have the crew deliver feature film quality visuals. There are a few characters that you'll see later in Season 4 that will rank up there.
About how long does it take to put together a single episode once the script is in hand?
I can't go in to details on that, but I can say that it all moves very quickly. There are so many episodes going at once, in different stages of production that time tends to blur it all together for me. It's all due in part to the precise schedule that our production teams stick to. I can tell you that we count in days and weeks, not months, when a show is rolling with designs in progress from the final script.
What has been your favorite episodes of The Clone Wars in the first three seasons and in season four, both in terms of technical achievement and enjoyment?
Tough question to answer. I get deeply into the development and story of every episode. I really enjoyed the challenge of the last two episodes of Season 3, with Ahsoka on the Trandoshan Moon. I wanted those two episodes to look like a feature film, all within the budget and time of a regular schedule. It was those two that changed the look of the show for how we approached sets and lighting. That, along with the Nightsister trilogy with Savage and Ventress, where we took the audience to a planet that would be memorable.
It's the sets that are often more challenging to pull off, no matter what the episode, and it continues to this day. A set should be treated like another character on screen at all times. I owe huge thanks to the teams that made these sets look the way do now, and continue to get better and even more amazing than the last.
You were a computer graphics technical assistant on the original Jurassic Park early on in your career. My memorable experience in high school seeing that film opening night is one of the reasons I'm doing what I'm doing today. How excited are you to see it finally coming to Blu-ray next month?
Very. It's one of those shows I will always remember. Every FX shot is like an old friend. I may not have been hands on with every shot, but since we were such a small crew back then, and we had such a low FX shot count, that we all became intimate with very frame of every shot. So yes, it will be like seeing an old friend that has not aged.
Ironically, and completely unintentionally, I'll be sitting down to watch A Nightmare Before Christmas on Blu-ray 3D after writing these questions. You supervised the production of the 3D version of that film for ILM. What was your experience working with 3D compared to 2D, and do you think The Clone Wars would be as effective in 3D?
Ahhh, the stereo 3D question! We broke ground with A Nightmare Before Christmas. We were a small team working in very short window of time to deliver. 3D was another beast, but with Nightmare, it's one of those rare gems of a movie that you treat with great care. We had the trust of Tim Burton, and the original crew that made the film, and even still I was hesitant to take the image too far off the screen too many times. I wanted that diorama feel, and I hope that it still comes across that way in everyone's homes in stereo 3D.
For me, being a traditional photographer (I walk around with a rangefinder film camera, wherever I go, every day), I see the world as flat art. I enjoy composition within the simplicity of the 'Golden Rectangle.' It's because of that, and my attraction to drawn and photographed art, that I appreciate our look for the series staying as it is. It would have to be for the right reason that we add stereo 3D depth to our production. That would be a factor in our production schedule that I can pretty much say, would be one epic challenge!
Look for more interviews with the team behind Star Wars: The Clone Wars here at TheHDRoom throughout the week, culminating in our season 4 premiere review on Friday.
Special thanks to Joel Aron and the PR crew at LucasFilm.