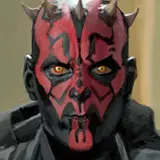 This morning LucasFilm announced the release date for Star Wars Episode 1: The Phantom Menace in 3D is February 10, 2012. On that date you'll get to see the Pod Race and Darth Maul taking on Obi-Wan and Qui-Gon jumping off the screen with the aid of 3D glasses.
George Lucas and LucasFilm have committed to re-engineering each of the six Star Wars films in 3D for theatrical releases. It is expected they will be delivered on an annual basis with Star Wars Episode 2: Attack of the Clones arriving in theaters sometime in early 2013.
If LucasFilm sticks to an annual schedule, Star Wars Episode 6: Return of the Jedi would wrap the 3D Star Wars theatrical run in 2017.
Presumably the Star Wars films in 3D would make their way to Blu-ray 3D following a fairly standard 3-5 month time span. LucasFilm has yet to address if/when the Star Wars films will be released on Blu-ray 3D.
Source: StarWars.com