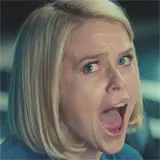 Paramount has released what they are calling a "trailer announcement" for Star Trek Into Darkness from director J.J. Abrams, but it's essentially a trailer unto itself. Get ready for 60 seconds worth of the Enterprise crew in danger, Starfleet under attack from within, and Benedict Cumberbatch flexing his evil chops in a bid to seek revenge upon those who wronged him.
Quite a few scenes in this trailer are centered around a ceremony at Starfleet Academy and an attack at presumably the same location. Kirk (Chris Pine), Spock (Zachary Quinto) and their crew are on hand to witness the horrific events that leave Starfleet crippled at the hands of an enemy grown within their own organization.
I suspect this initial attack on Starfleet by Cumberbatch's still unnamed character (is he Khan or Gary Mitchell? Take your pick) comprises the first nine minutes of the film that will be screened exclusively in front of all IMAX prints of The Hobbit: An Unexpected Journey beginning a week from tomorrow. The attack would set the stage for Kirk and the survivors to resurrect the Enterprise and head off into the darkness of space to hunt down and stop Cumberbatch's character before he does any more harm.
There are possible multiple sightings of the Enterprise in this trailer. The first is a shot of a Starship slowly raising out of the sea. You can make out the "NCC" on the side, but not the rest of the registry number that would indicate this ship is, in fact, the U.S.S. Enterprise. I am firmly convinced it is despite the shape being a little "off."
The final shot of the trailer shows a Starship that looks a heck of a lot like the Enterprise plunging into the sea while on fire. I suspect the downing of the Enterprise is either the first or final blow in the attack, and the resurrection of the Enterprise from the water's depths is symbolic of Starfleet rising from the ashes. It's only fitting that if Starfleet is obliterated, the Enterprise is the only salvageable ship left to carry on her cause.
Enjoy the first Star Trek Into Darkness footage via the trailer tease below, complete with Cumberbatch's gloom and doom voiceover, followed by the Japanese version with an intriguing and familiar additional scene at the end. Does the spectacle make you want to go out of your way to watch the first nine minutes in IMAX in just over a week? You can bet I'll be there.
Star Trek Into Darkness beams into theaters on May 17, 2013.