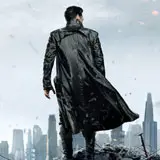 The first teaser poster for Star Trek Into Darkness confirms a portion of the film's official synopsis that paints a bleak picture for Captain Kirk and the crew of the Starship Enterprise.
The poster depicts Starfleet in ruins, destroyed by "an unstoppable force of terror from within their own organization" as the synopsis revealed. The Enterprise and her crew are on earth when this attack occurs, and it is Kirk (Chris Pine) seen looking out from amongst the rubble in the poster. See if you can spot the Starfleet emblem as well.
This attack will leave Kirk "with a personal score to settle," suggesting the still-unnamed villian, played by Benedict Cumberbatch, hits close to Kirk's heart with his attack. One theory is that Cumberbatch is playing Gary Mitchell, a character from the Star Trek television series who was a friend of Kirk's during their Starfleet Academy days. Mitchell came into contact with an alien energy and ultimately turned on Kirk, leading to his unfortunate death.
Another theory is that Cumberbatch is none other than Khan, exacting revenge on Kirk in what will turn into an "epic chess game of life and death." If there's one man who loves a good game of strategy, it's Khan.
Our first glimpse of Star Trek Into Darkness will come attached to Peter Jackson's The Hobbit: An Unexpected Journey on December 14. The traditional theatrical prints will include the film's first trailer. IMAX screenings will offer the first nine minutes of the film which director J.J. Abrams shot with an IMAX camera.
Star Trek Into Darkness stars Chris Pine, Zachary Quinto, Benedict Cumberbatch, Karl Urban, Simon Pegg, Zoe Saldana, John Cho, Anton Yelchin, Bruce Greenwood, Alice Eve and Peter Weller. The next voyage of the Starship Enterprise takes off on May 17, 2013.