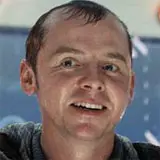 Anyone waiting for the first Star Trek Into Darkness trailer and footage is already well aware that it will be attached to Warner's The Hobbit: An Unexpected Journey a week from this Friday. Until today, no one was aware that we would get our first glimpse into the J.J. Abrams sequel a lot sooner than that.
Leave it to Simon Pegg to pop onto Twitter today and casually reveal that the Star Trek Into Darkness trailer premieres online this Thursday. Not next Thursday, which would seem more logical given that would be one day before the first Hobbit film bows. This Thursday, as in a little over one day from now.
Maybe Pegg is confused and meant next Thursday. If he did, that tweet would have been deleted by now. If he were pulling our collective chain then Paramount would have been quick to yank. Rather, it appears Paramount gave Pegg the go-ahead to announce the trailer premiere in the most casual way.
Star Trek Into Darkness jumps into theaters on May 17, 2013, but you will be able to watch the first nine minutes of the film in front of The Hobbit: An Unexpected Journey on IMAX screens beginning December 14. Catch the first teaser poster here in case you missed it.
Star Trek Into Darkness trailer. Premieres online, this Thursday. Get ready to boldly go again.

— Simon Pegg (@simonpegg) December 4, 2012
>