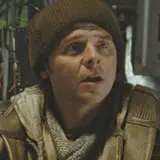 Paramount and numerous financiers had a lot of cash on the line when green-lighting a new installment in the Star Trek franchise equipped with a budget reportedly no less than twice the overall domestic box office take of any Trek film before it.
In the hands of J.J. Abrams and Star Trek fanatics/scribes Roberto Orci and Alex Kurtzman?, the bold new Star Trek broke the science and message-heavy template of its predecessors and blasted into effects-heavy summer blockbuster territory with positive results. No, make that out of this world results.
Besting even the highest studio estimates, Star Trek warped to an impressive $72.5 million from the Friday-Sunday period per studio estimates. Add in the $4 million secured on late Thursday showings and Star Trek is on the doorstep of becoming the highest grossing film in the franchise with $76.5 million and counting.
Here's a quick breakdown of where Star Trek will stand after just over three days in theaters compared to its predecessors in order of newest to oldest (assuming this past weekend's estimates are correct):
Star Trek (2009): $76.5 million
Star Trek Nemesis: $43.3 million
Star Trek Insurrection: $70.2 million
Star Trek First Contact: $92 million
Star Trek Generations: $75.7 million
Star Trek VI The Undiscovered Country: $74.9 million
Star Trek V The Final Frontier: $52.2 million
Star Trek IV The Voyage Home: $109.7 million
Star Trek III The Search For Spock: $76.5 million
Star Trek II The Wrath of Khan: $78.9 million
Star Trek The Motion Picture: $82.3 million
As you can see, only Star Trek II, IV and VIII are ahead of 2009's Trek and all three will likely fall by next weekend.
The complete weekend shakes out as follows including a massive 68% dip for Wolverine which was obviously affected by Star Trek's bow.
1. Star Trek: $72.5m
2. Wolverine: $27m
3. Ghosts of Girlfriends Past: $10.45m
4. Obsessed: $6.6m
5. 17 Again: $4.4m
6. Next Day Air: $4m
7. The Soloist: $3.6m
8. Monsters vs Aliens: $3.4m
9. Earth: $2.5m
10. Hannah Montana: The Movie: $2.4m
Next weekend sees The Da Vinci Code sequel Angels & Demons as the only new wide release. At 3400 screens it should challenge and overtake Star Trek for the top spot.