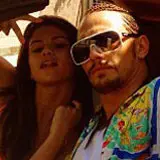 Harmony Korine's edgy Spring Breakers starring James Franco, Ashley Benson, Selena Gomez, Vanessa Hudgens, and Rachel Korine will be partying on Blu-ray and DVD beginning July 9.
Spring Breakers was made on the cheap for $5 million in Panama City Beach, Florida and has gone to earn $13.8 million domestically to date. The film is rated fresh at Rotten Tomatoes with a 65% score and should be a hit on Blu-ray and DVD considering the theatrical release never expanded much further beyond 1,100 locations.
Spring Breakers comes to Blu-ray in 2.35:1 1080p video and 5.1 DTS-HD Master Audio. Extras include:
Breaking it Down: Behind Spring Breakers – A Behind-the-Scenes 3-Part Documentary

Part 1 – Film Makers: Spring Breakers
Part 2 – Breaking Convention
Part 3 – Spring Breakers Forever

Deleted Scene/Outtakes
Harmony's Ear Candy featurette – An Insightful Look at the Music of Spring Breakers
Audio Commentary with Writer/Director Harmony Korine
VICE featurettes – An Inside Look at the ATL Twins and Real Life Partying in Panama City Beach
Theatrical Trailer/TV Spots
The Spring Breakers Blu-ray cover art below is as it should be with the young ladies looking raucous and Franco looking dope, the same key art as the main theatrical one-sheet movie poster.
Click here to pre-order Spring Breakers on Blu-ray for $19.59 at Amazon.com, 30% off the $27.99 list price.