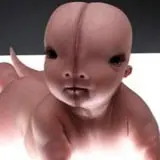 The Warner Bros. 2010 sci-fi horror flick Splice starring Adrien Brody (Predators) and Sarah Polley (Dawn of the Dead) will make its way to Blu-ray Disc and DVD on October 5.
The Blu-ray edition of Splice will include the DVD version as well as a digital copy. Bonus features will be represented by the lone A Director's Playground: Vicenzo Natali on the Set of Splice featurette.
Splice on Blu-ray carries an SRP of $35.99. Cover art is below, and Amazon pre-order information is forthcoming.