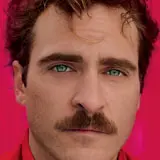 Spike Jonze's Her starring Joaquin Phoenix and the voice work of Scarlett Johansson as a power computer operating system has been given a March 13 release date by Warner Home Video for Blu-ray, DVD and Digital HD.
Her won the Academy Award for Best Original Screenplay (Spike Jonze) and was also nominated for Best Picture, Musi – Original Score, Music – Original Song, and Production Design. The intimate film that explores how people connect with one another and experience intimacy in a technology-driven world earned over $36.6 million at the worldwide box office.
The Blu-ray, DVD and Digital HD combo pack of Her will present the film in 1080p video and 5.1 DTS-HD Master Audio. Bonus features include:
The Untitled Rick Howard Project
How Do You Share Your Life with Somebody
Her: Love in the Modern Age
Click here to pre-order the Her Blu-ray and DVD combo for $24.99 at Amazon, 31% off the $35.99 list price.
Check out the Her trailer and Blu-ray cover art below.