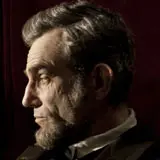 Daniel Day-Lewis brings his "A" game in the first trailer for Steven Spielberg's Abraham Lincoln biopic titled simply and elegantly Lincoln.
Once the trailer gets past the fascination with showing the back of Honest Abe's head, it dives deep into the soul of our 16th President. Spielberg seems intent on showing as much of what makes Lincoln tick as it does his politics and the Civil War occurring around him.
I hate making assumptions based on a few scant minutes of carefully edited footage, but it's going to be hard to imagine Academy Award-winner Daniel Day-Lewis not being nominated for another Best Actor award and being the favorite to bring the Oscar home. If the whole film plays as well as the trailer does, look for Spielberg to find his name on the Best Director list as well.
The film's commercial viability remains to be seen. Spielberg has directed within the world of slavery before with 1997's Amistad, a film that barely made back its production budget in ticket sales. However that film's central character is a relative unknown compared to Abraham Lincoln, and Djimon Hounsou is no Daniel Day-Lewis. America's fascination with our 16th President coupled with the star power behind the film should work in its favor.
Lincoln, a biopic of the later years of Abraham Lincoln's life, will open in limited release on November 9, 2012, then expand to a wide release a week later on November 16. It stars Daniel Day-Lewis, Tommy Lee Jones, Sally Field, Joseph Gordon-Levitt, James Spader and Hal Holbrook.
Enjoy the Lincoln trailer, theatrical one-sheet movie poster, and a new Daniel Day-Lewis as Abraham Lincoln image below.