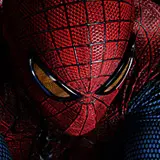 Today Columbia Pictures released the official name for the upcoming Marvel Spider-Man reboot and passed along the first official image of Andrew Garfield wearing his complete head-to-toe Spider-Man outfit.
The new film will be called 'The Amazing Spider-Man' which, of course, is the same name emblazoned across the long-running Spider-Man comic book series. It sounds rather appropriate given The Dark Knight name Christopher Nolan bestowed upon his second Batman film and sets up what should become a multi-film franchise.
Seeing Andrew in his full Spidey digs isn't really anything "new" considering the numerous on-location images and videos shot in Los Angeles of Spider-Man running and swinging about town. This official image does however make Spider-Man look like a true bad-ass superhero for the first time and should get your Spidey Sense tingling moving towards the film's release. I've also included a second version of the image with the brightness cranked up and contrast cranked down so you can see the webslinger a little more clearly.
The Amazing Spider-Man stars Andrew Garfield, Emma Stone, Rhys Ifans, Denis Leary, Campbell Scott, Irrfan Khan, Martin Sheen, and Sally Field. Filming in 3D under the direction of Marc Webb continues with the film hitting theaters on July 3, 2012.