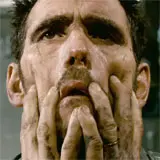 Ripping off your own company never works, people. Just ask any former Enron executive.
That advice goes right over the head of Matt Dillon, Jean Reno and Laurence Fishburne in Sony's Armored. The unlikely trio think they can rip off the armored company they drive for. You can pretty much guess their fool-proof plan hits more than a few road bumps.
Check out the Armored full theatrical trailer, complete with spoiling a predictable practical joke and Heroes star Milo Ventimiglia, below.
Head over to Apple to see the high-def trailer. Armored is currently scheduled for a September 18 release.