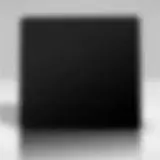 The cat and mouse game between Sony and Microsoft got good this morning when Sony offered a teaser glimpse of their new upcoming Playstation 4 console.
The PS4 tease comes via a video that starts with a blurry look at the entire console, then quickly cuts between close-ups of such things as the play button and vents. Really the only thing the video tells us is that the console will be black (at minimum) and it's got a really cool stylized "4" on it.
Microsoft's big next Xbox reveal is set for tomorrow and it is widely expected that they will show their new console during the one-hour presentation that will be live streamed. Sony's big Playstation 4 console reveal during their E3 media briefing on June 10 at 6pm PST.