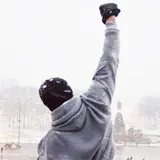 Sony and Amazon.com are partial to the number 17 this month if the new Blu-ray promotion they've teamed up to run is any indication.
From now until November 17, Amazon.com has cut the prices on 17 Sony Blu-ray Disc titles by up to 54% off list price. In fact, only 4 of the 17 titles have savings less than 54% off list.
Since there are so few titles in the offer we'll take a moment and list them out. They are Underworld Evolution, The Pursuit of Happyness, Rocky Balboa (editor's pick), The Holiday, Ultraviolet, Vacancy, Gridiron Gang, The Covenant, Hostel Part II, RV, Click, Reign Over Me, Basic Instinct 2, The Benchwarmers, Catch and Release, The Messengers and Blood & Chocolate.
You can check out this deal and pricing for each title by clicking here.
More studio-specific Blu-ray deals are likely to pop up in the coming weeks and we'll be sure to pass them along.