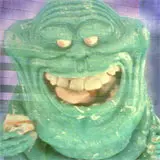 The big CES Blu-ray announcements keep rolling in with word from Sony that June 16 is the date Ghostbusters: 25th Anniversary Edition will be unleashed on Blu-ray Disc.
Nowhere to be found in the announcement is word of Ghostbusters II. If you recall, Sony's previous plan last fall was to release both Ghostbusters films in one package on Blu-ray.
Within this announcement is the first official confirmation that Atari plans to release the Xbox 360 and PS3 version of Ghostbusters: The Game "simultaneous" with the Blu-ray Disc release. We take that to mean day-and-date so mark your calendars and save those pennies.
First details of new features on the Ghostbusters Blu-ray have emerged that reveal three all-new Blu-ray exclusives. The complete list, including ported features from DVD, is as follows.
NEW: Slimer Mode: Picture-in-Picture Graphical Viewing Experience with an examination of the spook-hunters firehouse headquarters, an in-depth exploration of the creatures in the Ghostbusters mythology, behind-the-scenes discussions of making the movie, new cast, crew and special effects artists interviews and much more! (Blu-ray exclusive)
NEW: Featurette: Ecto-1: Resurrecting the Classic Car (Blu-ray exclusive)
NEW: Ghostbusters Garage: Ecto-1 Gallery (Blu-ray exclusive)
Filmmakers' Commentary with Ivan Reitman, Harold Ramis and Joe Medjuck
Featurette: 1984 – The Making of Ghostbusters – Interviews with the cast and crew
Featurette: Interviews with Cast and Crew
Featurette: SFX Team – Includes Before and After Multi-Angle Explorations
Scene Cemetery – 10 Deleted Scenes
Storyboard Comparisons
Tech specs are still unknown but we can verify new digitally mastered audio and video. Dolby TrueHD is a safe bet for the audio format.
Ghostbusters on Blu-ray will retail for $38.96. We're trying to track down cover art and will pass it along when available.