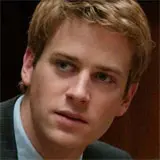 David Fincher's The Social Network lived up to box office expectations by amassing an estimated $8.5 million in ticket sales Friday, more than double the next closest competitor Wall Street: Money Never Sleeps. If the Aaron Sorkin-scripted drama can hold course it should finish the weekend somewhere between $24 and $26 million.
The other newcomers at the box office weren't as fortunate. Matt Reeves' Let Me In hardly let anyone in with a skimpy $1.9 million Friday haul and a sixth place finish. It will be lucky to cross $5 million through the weekend, less than half the business many assumed the heavily promoted vampire drama would attract.
The Paramount Vantage shelf-warmer Case 39 might as well have stayed locked in a vault. Its $1.8 million opening day sales proves Renee Zellweger is DOA without Bridget Jones and Bradley Cooper is more appealing when hungover.
Check back tomorrow for the complete weekend box office estimates.