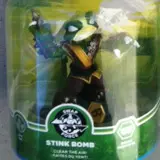 Update (December 13): Since this report first went live, Skylanders Swap Force wave 3 has not shown up on store shelves as my finding them might have indicated. However, thanks to the diligent work of several readers that shared their findings in the comments below, it is looking very likely that retailers have wave 3 in stock and are holding them to put them out this Sunday, December 15. This should include at minimum Stink Bomb, Rubble Rouser and Spy Rise, and could also potentially include Dune Bug, Sheep Wreck Islands and several reposes/LightCores. More information should become available on Sunday so be sure to post your findings in the comments.
Original article (December 10): Greetings, Portal Masters. One of the biggest mysteries surrounding Skylanders Swap Force has been when will wave 3 be released and, more specifically, when will Stink Bomb be out. Overseas Amazon listings originally hinted at November but that never worked out, and the most recent listings suggested mid-to-late January. Boo to that.
Hopes for a pre-Christmas arrival got a bolt when GameStop in Italy was found to have wave 3 in stock and was selling them. Some wave 3 figures also started showing up in the U.K., leaving us here in the U.S. wondering when Skylanders Swap Force wave 3 might arrive. The answer is surprisingly right now.
Today I had to do a double-take at Target when Spy Rise was sitting front and center amongst a sea of freshly stocked Skylanders in Phoenix, Arizona. Sitting right behind him was a second Spy Rise, and to his left a Rubble Rouser. Some additional digging turned up a lone Stink Bomb, the most coveted wave 3 figure as he unlocks the Stealth Swap Zone that until now was inaccessible. There were no more than two of each wave 3 Swap Force Skylander on the shelves.
Target did not have any of the new reposes, LightCores, or the Sheep Wreck Islands adventure pack. There is now a strong possibility that those two will arrive in stores, or at least at Target, before Christmas.
Generally speaking when new figures appear at Target, they show up on the west coast first and then move their way east. Give your local Target a call and start stalking them as these won't last long. Also be on the lookout at GameStop, Toys R Us and Walmart who could conceivably start stocking wave 3 any day.
Click any of the images for a bigger look.