Update: I have linked each Skylanders Swap Force product below to their purchasing page at Amazon.com in case you couldn't find specific characters at the store or didn't feel like venturing out of the house.
Skylanders Swap Force is set to invade stores this upcoming Sunday, October 13, and Activision is being a little cagey about releasing a definitive list of precisely which characters and figures will be available to purchase on day one. Don't worry as I have compiled a – to the best of my knowledge – thorough Skylanders Swap Force wave 1 characters and store exclusives list to help you as a launch guide on your online or in-store Skylanders shopping this weekend.
The new Skylanders Swap Force characters are offered in a variety of different configurations and styles. There are Swap Force Skylanders, regular new Skylanders, regular reposed Skylanders, LightCore Skylanders, triple packs, an adventure pack, a battle pack, and two different starter packs. It's enough to make someone's head spin trying to keep track everything. That's why I am here to help.
Swap Force Skylanders
Developer Vicarious Visions has created 16 new Swap Force characters for the game that can be split at the waist and mixed-and-matched into 256 different combinations. Of those 16, a total of six of them will be available in wave 1 and each carries an SRP of $14.99, the same price as the Giants did last year.
I have all six of these Swap Force Skylanders in my possession right now but cannot talk specifically about them until the review embargo lifts early Sunday morning. What I will say is these guys are sized in between a regular and Giant Skylander and have two magnets in each half, thus the higher price.
The six Skylanders Swap Force wave 1 Swap Force characters are Wash Buckler and Blast Zone (included with the Starter Pack), Rattle Shake and Free Ranger (included with the 3DS Starter Pack or sold separately), Hoot Loop and Magna Charge.
Regular New Skylanders
Individually packaged regular new Skylanders include Slobber Tooth, Roller Brawl, Countdown and Zoo Lou, priced at $9.99 each. Of those, Zoo Lou is also packaged in one of the triple packs described below.
LightCore Skylanders
This year's launch lineup is full of LightCore entries featuring new and old characters alike. If you want Star Strike*, Grim Creeper or Smolderdash on launch day, you will have to purchase the LightCore versions at $12.99 each. Non-LightCore versions will be released at a later date. Older characters getting the LightCore upgrade for wave 1 include Flashwing and Warnado, bringing the total number of wave 1 LightCore Skylanders to five.
*Regular Star Strike appears under store exclusives
Reposed Series 2 and 3 Skylanders
It wouldn't be a new Skylanders game without reposes and Swap Force is no exception. Available on day one as single packed figures for $9.99 each are Lava Barf Eruptor (Series 3), Mega Ram Spyro (Series 3), Blizzard Chill (Series 2), and my personal favorite of the bunch, Super Gulp Pop Fizz (Series 2). All four of these are also available in the triple packs.
In addition, Ninja Stealth Elf (Series 3) is included in the console starter packs (seen above).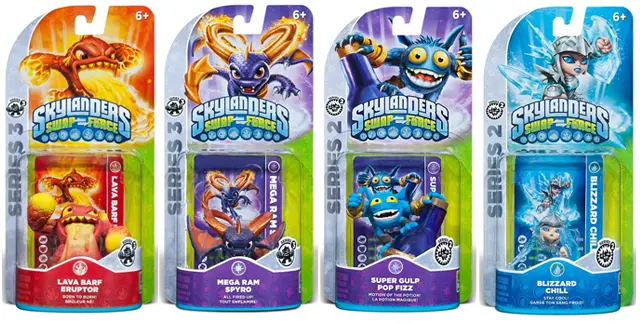 Triple Pack Skylanders
Activision is releasing two triple packs in Swap Force wave 1. If you plan accordingly, you can limit the number of duplicates while trying to complete a wave 1 set assuming you aren't after the store exclusives.
The first triple pack includes Lava Bark Eruptor, Slobber Tooth and Super Gulp Pop Fizz. The second triple pack includes Mega Ram Spyro, Blizzard Chill and Zoo Lou. Each is priced at $24.99 offering a bargain if you're a completist collector.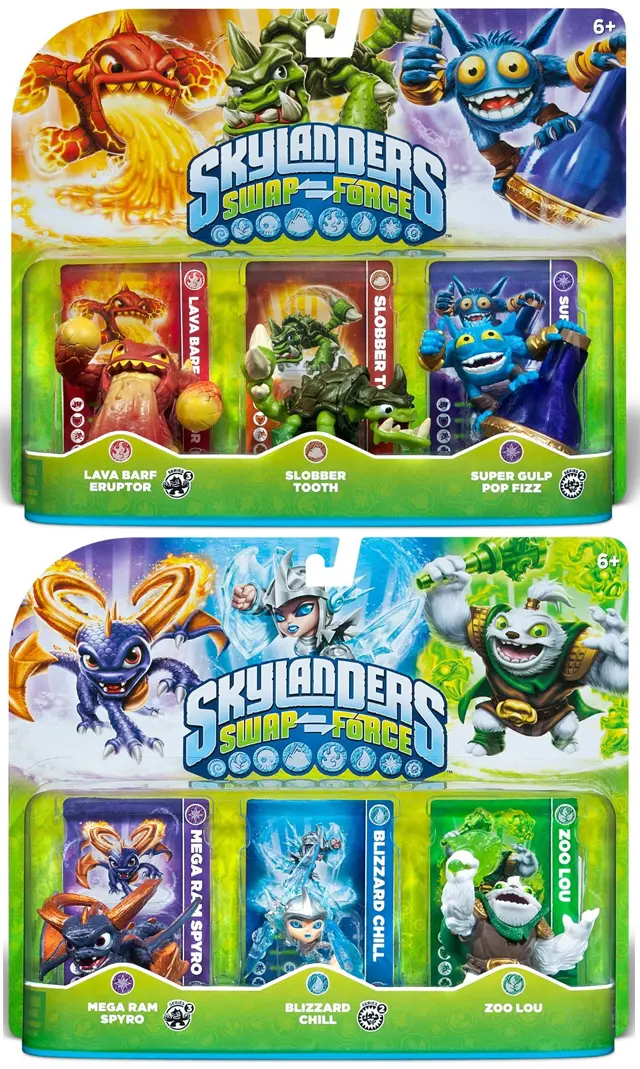 Adventure and Battle Pack Skylanders
The only way to get two of the new Skylanders and one repose (for now) is via the Tower of Time Adventure Pack with early fan favorite Pop Thorn, and the Fiery Forge Battle Pack with Bumble Blast and Knockout Terrafin (Series 3). All three of these figures will be single packed at a later date, but there's no telling right now when that date will be. My best guess would be at least 1-2 months after launch.
Store Exclusive Skylanders
Here's where the Skylanders Swap Force wave 1 list gets a little messy. I'll break down the store exclusives by store so they don't get too confusing.
Target: The Target store exclusive Skylander is Nitro Magna Charge and he is only available in a pair of two-packs featuring Rattle Shake and Free Ranger. Those happen to be the exact two Swap Force Skylanders in the 3DS Starter Pack so if you're looking for every variant on launch day, this is where you will have to double dip one of the Swaplanders.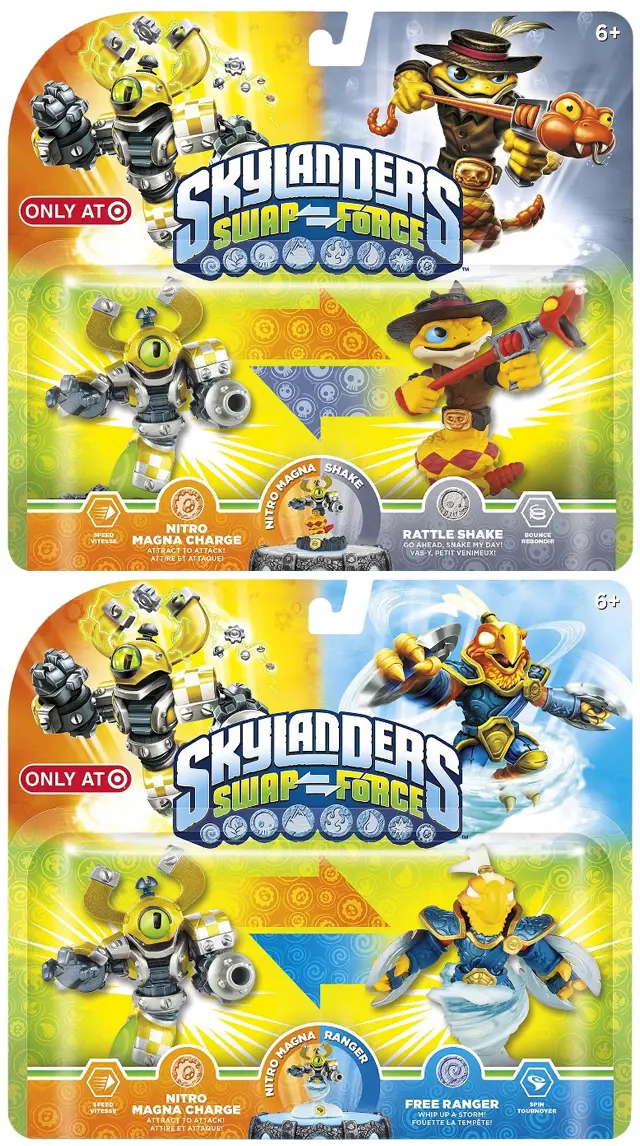 Toys R Us: As with the previous two games, Toys R Us will continue its Legendary Skylanders line with the addition of Legendary LightCore Grim Creeper ($13.99) and Legendary Free Ranger ($16.99). Two more Legendary Skylanders and an exclusive repaint are coming at a later date. I will detail those in a separate article.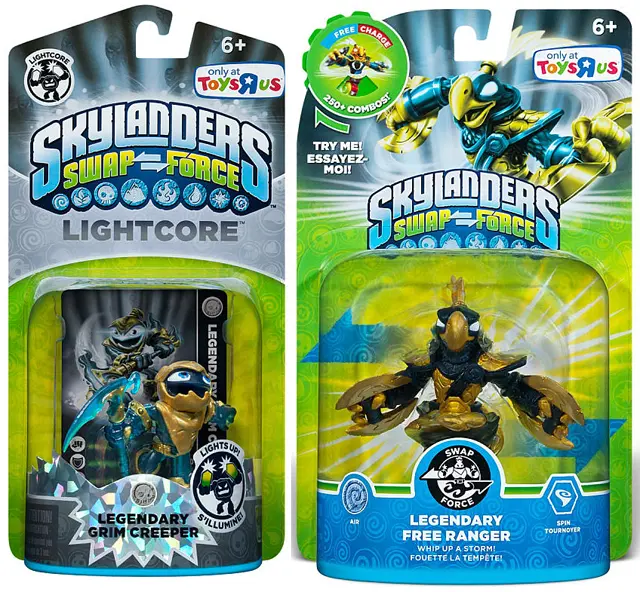 Walmart: Walmart is going away from the glow-in-the-dark with a Starter Pack route of the previous two games and will be offering Enchanted Hoot Loop ($14.96) and the Magic Triple Pack ($24.96). The latter includes Mega Ram Spyro, Super Gulp Pop Fizz, and the only way to get regular Star Strike.
GameStop: The big exclusive is at GameStop with the Dark Edition Starter Pack. This includes exclusive dark editions of Wash Buckler, Blast Zone, Ninja Stealth Elf, Slobber Tooth and Mega Ram Spyro. To own it will set you back a cool $100.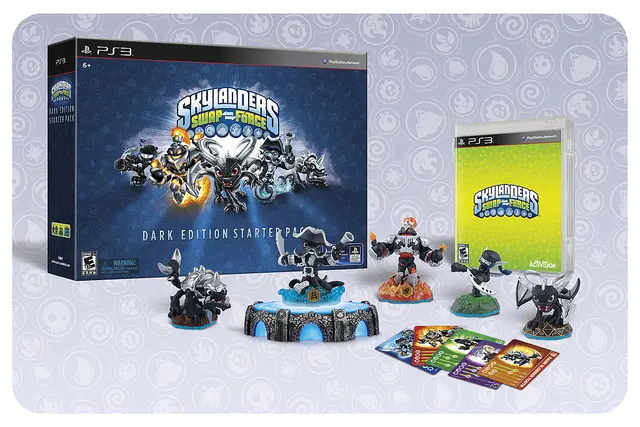 How much will it cost to buy every wave 1 Skylanders Swap Force character?
Here's a breakdown of the estimted cost to buy each unique Skylanders Swap Force wave 1 figure for the true completist in the most economical way possible, sans tax.
Add it all up and the true completist will need to spend $540.72 to get every unique figure at launch. Ouch.
Let's say you only want unique characters and don't care about repaints? In that case your wallet will come up a lot heavier. This requires a little bit of a reconfiguration of the triple packs to pull off.
Here your total is $319.84 and you still get a ton of new and reposed Skylanders to play with, though you don't get the 3DS version which is an entirely different game.
The final configuration is for shoppers who only want new characters and have no interest in reposes. Here's how much this group will need to fork out on Sunday.
The total for new Skylanders Swap Force characters only is $263.86. A little cheaper than going after the reposes to be sure.
Be sure to read our Skylanders Swap Force inside look from the halls of developer Vicarious Visions if you haven't already for some neat tidbits about the new game.