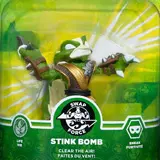 Activision has released the three new Skylanders Swap Force "swappable" figures Stink Bomb, Rubble Rouser and Spy Rise at all retail outlets including Amazon.com within the past week following a short exclusive window at Target that began in the days following Christmas late last year.
The key figure in this trio is of course Stink Bomb as he represents the first of two "Sneak" Swaplanders to be released that can open up the Sneak Swap Force zones in the game, which until now where frustratingly left locked with no way in. Players looking to complete every level of the game have had to wait for Stink Bomb's release, and now that's he out, the entire game is finally opened up to explore.
Amazon has each of the new Swap Force figures priced at $14.99 and offers free shipping for all Prime members, and free shipping for orders over $35 for non-Prime members, making it easy to buy them online. If you buy all three then they will be shipped to your home for free, the easiest way to grab the latest releases.
Click here to buy Stink Bomb for $14.99 at Amazon.
Click here to buy Spy Rise for $14.99 at Amazon.
Click here to buy Rubble Rouser for $14.99 at Amazon.
Also remember that the Sheep Wreck Island Adventure Pack with Wind-Up, the Arkeyan Crossbow Battle Pack with Thorn Horn Camo, and wave 3 figures like Dune Bug are also available to purchase at Amazon to help reach that $35 level for free shipping.
The big question now is when will wave 4 with figures like (presumably) Fire Bone Hot Dog, Freeze Blade, Doom Stone and the rest of the unreleased figures arrive? Odds are favorable that all of the Skylanders Swap Force figures will be in stores by the end of April, so I would expect the next wave of figures to arrive in the February/March time frame.