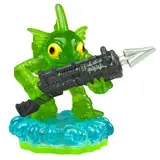 This past fall I visited Skylanders and Skylanders Giants developer Toys for Bob. While there, I spotted a translucent green Gil Grunt Skylander in a display case and inquired about him. A Toys for Bob employee told me he was a Microsoft exclusive but could offer no additional information beyond that.
It turns out the green Gil Grunt is in fact a Microsoft exclusive and is now available to purchase at Walmart with a catch. This rare little guy is packaged in with an Xbox 360 4GB console and Skylanders: Spryo's Adventure bundle for $159, and that's the only place he will ever be available outside of third-party resellers.
To make green Gil Grunt even harder to score, this bundle is exclusive to Walmart and only available this holiday season. By early next year, green Gil Grunts will dry up and he will become one of the trickier store exclusives to own alongside Gnarly Tree Rex.
If you happen to be in the market for a new or second Xbox 360 and green Gil Grunt, the bundle is now available at Walmart.com with free shipping to your home as part of the retailers Cyber Monday sales.
Browse or purchase the Xbox 360 Skylanders bundle with exclusive green Gil Grunt with free shipping at Walmart.com.