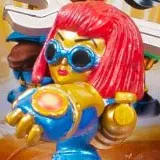 Now that Skylanders Giants has been available to own for several months and the fourth and final wave of figures from the game will be out within the next couple months, online retailer Amazon.com has launched their first big Skylanders sale of 2013 to help clear some inventory and build up Skylanders collections for a reduced price.
The Skylanders Giants sale is expected to run several days. Regular Skylanders seeing their price reduced from $9.99 to $5.99 include Sprocket, Drill Sergeant Series 2, Sonic Boom Series 2, Stump Smash Series 2, Whirl Wind series 2, and Cynder Series 2.
A couple LightCore Skylanders have been reduced from $12.99 to $6.99 including Drobot and Prism Break.
Skylanders Giants getting the new deal price of $9.99 from $14.99 include peg warmer extraordinaire Bouncer and Swarm.
The first Battlepack with Chop Chop Series 2, Shroomboom and the Dragonfire Cannon has been reduced from $24.99 to $17.99, as has the triple pack with Sprocket, Series 2 Sonic Boom and Series 2 Stump Smash.
Last but not least, the actual Skylanders Giants game has been reduced from anywhere between $35 and $49 depending upon the platform selected.
Click here to browse or shop Amazon's Skylanders Giants sale and remember that orders $25 or more get free shipping.