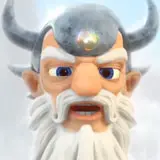 Greetings, Portal Masters. By now you are surely tracking down some of the newest Skylanders Swap Force wave 4 figures such as Punk Shock in Easter packaging, Freeze Blade and Scratch, amongst others. In less than two weeks, the Greeble will be out of the bag and our first look at Skylanders 4 (temp title) will be made public.
The official Skylanders 4 reveal date is Wednesday, April 23. I can't tell you what time to expect the reveal just yet, but rest assured that by the time you go to bed, you'll have the first official Skylanders 4 details and assets to digest.
All we know about the game at this time is that Toys For Bob, the Activision in-house development studio that created the Skylanders franchise and Toys to Life gaming genre, developed the game and has been working on it since before the release of Skylanders Giants. Mega Bloks inadvertently leaked some toy images from the game during Toy Fair 2014, but what was shown only gave a hint at what some of the new characters might look like.
Last year for Skylanders Swap Force, the reveal announcement included a teaser trailer as well as gameplay from one of the levels and several character introductions. I would expect no less from the Skylanders 4 reveal event.
To announce the Skylanders 4 reveal event to select media, Activision created a neat little trailer starring Emperor Kaos himself that you can watch below. We'll have someone in attendance at the Skylanders 4 reveal event so be sure to stop back on April 23 for Skylanders 4 details, impressions, assets and more.