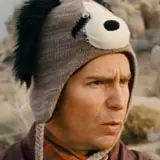 Irish director Martin McDonagh's black comedy Seven Psychopaths starring Colin Farrell, Woody Harrelson, Sam Rockwell, Christopher Walken and Tom Waits will join fellow Sony Pictures Home Entertainment release Hotel Transylvania on its January 29, 2013 release date.
The CBS Films' release about a screenwriter who gets tangled up in a dog kidnapping scheme has earned a modest $14.3 million in its domestic theatrical box office run, right on par with the estimated $15 million production budget. It's been compared to McDonagh's previous effort In Bruges, to give you an idea of what to expect.
Sony is presenting Seven Psychopaths on Blu-ray in 1.85:1 1080p video and 5.1 DTS-HD Master Audio. Bonus feature include:
Martin McDonagh'S Secen Psychopaths
Colin Farrell is Marty
Woody Harrelson is Charlie
Crazy Locations
Seven Psychocats
Layers
Click here to pre-order Seven Psychopaths on Blu-ray for a discounted price at Amazon.com.