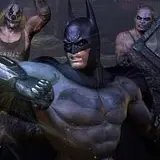 Rockstar's L.A. Noire is the talk of the town right now for its massive amounts of data and campaign that exceeds 30 hours in length. Tracking down criminals in the 1940s isn't the only lengthy gaming experience on tap for this year.
In an interview with The Guardian, Batman: Arkham City director Sefton Hill of Rocksteady Games revealed that you will need to set aside approximately 40 hours to play through everything the game has to offer in its entirety. That breaks down to 25 hours worth of campaign play and an additional 15 hours tracking down and completing all the optional side missions.
This extensive play time contradicts comments made by Rocksteady's marketing manager, Dax Ginn, two months ago. He said that if you focused on moving forward and didn't get distracted, the Batman: Arkham City campaign could be wrapped up in around 8 hours.
So which is it, 8 hours or 25? Mileage will vary depending on a player's skill, but my best guess is the answer falls somewhere in the middle.
Batman: Arkham City swoops onto Xbox 360, PS3 and the PC on October 18.
Click here to pre-order Batman: Arkham City on the platform of your choice at Amazon.com.
Source: The Guardian