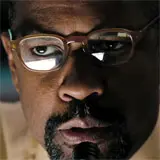 Yahoo Movies! has debuted the full theatrical trailer for Tony Scott's Taking of Pelham 123.
The city thriller stars John Travolta in a rare "bad guy" role who with the aid of three accomplices takes a subway car hostage. Their demands? A heap of cash in under an hour exchanged for the passengers' lives.
Negotiating freeing the hostages with Travolta is Denzel Washington as a subway dispatcher. You'll also spot a certain Transformers supporting cast member making a few appearances.
Fair warning before viewing the trailer: Sony practically outlines the entire film which for me is a big no-no in previews. View at your own spoiler-insensitive risk.
The Taking of Pelham 123 rides into theaters on June 12. You can check out the full-size HD version over at Yahoo! Movies.