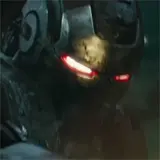 The second trailer for Jon Favreau and Marvel's Iron Man 2 debut during Jimmy Kimmel Live last night with a lot of new footage and a better look at what Tony Stark and War Machine will be up against.
Some of my favorite shots are of Iron Man (Robert Downey Jr.) smacking who appears to be War Machine (Don Cheadle) with a pole in a boxing ring, Stark letting Black Widow (Scarlett Johansson) play with his Iron Man hand, Stark reading off his personality problems to Nick Fury (Samuel L. Jackson), and Justin Hammer (Sam Rockwell, Moon) showing Whiplash (Mickey Rourke) his own assembly line of tech.
The money shot teased by Favreau a couple days ago is the closing shot where the Mark V armor unfolds out of a briefcase and snaps onto Stark after he is attacked by Whiplash at Monaco. A new take on an old classic indeed.
You can watch the trailer in high definition (HD) at Apple.