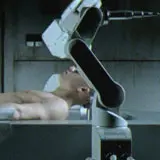 The TV version of Microsoft's new "Birth of a Spartan" live-action short to promote the upcoming Halo: Reach multiplayer beta on Xbox 360 has been released and can be viewed below.
In the short, a member of Noble Team from Halo: Reach is seen undergoing the procedure to become a Spartan soldier. A few flashbacks depict his journey to the installation where the procedure is being executed, while the closing money shot shows the infamous Spartan armor.
An additional two minutes of footage will be added to the short tomorrow morning, April 29, and debut on Xbox Live for Gold Members. We'll have it to share here immediately afterward.
Be sure to enter our Halo: Reach beta code contest where 10 winners will receive a code to play the Halo: Reach beta beginning tomorrow night (public access commences on May 3).